Products
Discover the Difference with Alfredo Exclusives
Quality Hair Care Products for Men and Women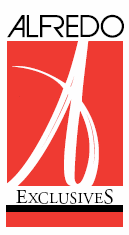 Concentrated - Quality Ingredients - Specially Formulated
We Don't Compromise…Why Should You?
S H A M P O O with...
BODY TEXTURIZING SHAMPOO

Helps increase strength and elasticity. Gives texture to the hair while adding body and shine. Has a thickening foam enhancer. Lower pH to flatten cuticle and increase shine. Helps to minimize breakage.

SHAMPOO PLUS

Designed to be used with most hair types, Shampoo Plus has been carefully adjusted to be compatible with the normal pH range of hair and scalp - between pH 5.0 and pH 5.5. It is this LOW pH, along with the benefits of a special protein formulation and built-in conditioner, that will help to leave your hair extremely manageable while increasing shine and luster.

DETRITUS SHAMPOO

A shampoo with added agents to reduce flakes, bacteria and oil on the scalp and hair. Formula will not damage hair and can be used daily.

C O N D I T I O N with....
MOISTURE CREAM INTENSIVE CONDITIONER
Makes hair more manageable while eliminating dryness and brittleness. It helps restore the moisture balance and increases the shine and luster of your hair.

S T Y L E with...
STYLING FOAM
Non-aerosol mousse. Liquid transforms into foam. Unequaled holding power designed to create height, body and fullness. Exceptional economy with 180 to 200 applications per bottle. Conditions, protects and moisturizes hair with a built-in sunscreen. Alcohol free.

F I N I S H with...
SHAPER FINISHING HAIR SPRAY (aerosol)

Developed as a dry, workable spray that provides medium hold and tremendous shine. Designed to provide both styling and finishing benefits. Product never flakes and leaves hair brushable for restyling. Peptides and natural plant proteins condition with each application. Daily use helps prevent damage caused by environmental stress. Natural extracts moisturize, control static and resist humidity. Color remains vibrant, and hair appears young and healthy.

FINISHING SPRAY (pump)

This firm holding hairspray quickly dries to a crystal-clear finish, allowing no color change, build-up or flaking. Hair radiates extra shine and color depth. Helps firm holding styles to resist humidity and retain liveliness without relaxing. Hair stays flexible - never stiff or sticky. Not only can this spray be used as a finishing spray, but also as a firm holding styling spray when applied to damp hair. Easy comb through even after the spray has dried making styling and restyling easy. This water-soluble spray also shampoos out of the hair easily.
OTHER HIGH QUALITY PRODUCTS


American Crew

American Crew leads the way in the men's grooming business.

Firm Hold Styling Gel - used for a firm or maximum hold. Formulated to be non-drying to the scalp, and uses thermal barriers that protect the hair from environmental stress.

Light Hold Styling Gel - creates shine and body with light hold and is alcohol free. Contains thermal barriers that protect the hair from environmental stress.

---

Paul Mitchell

"LIVE BEAUTIFULLY...FEEL BEAUTIFUL"

The products created for hairdressers by hairdressers that provides all the ingredients you need to get your hair looking amazing.

---

Sanzi
ColorTrue Shampoo

SANZI PERFORMANCE ORGANICS

"...it is not only what is in our products that makes it great...it is what's not in it that makes it special."

-Robert Sanzi, Creator

SULFATE FREE, PARABEN FREE, HAIR COLOR SAFE, LOW PH 6.0 (NATURAL HAIR PH 4.5-5.5), HIGH LATHER GENTLE CLEANSING, SULFATE FREE, DOES NOT LEAVE HAIR FEELING DRY OR BRITTLE, LEAVES HAIR SILKY AND SHINY WITH THE RIGHT AMOUNT OF CONDITIONING BENEFIT, ORGANIC CONDITIONERS FOR LIGHT MOISTURIZING BENEFITS, ORGANIC EXTRACTS OF BILBERRY, SUGAR MAPLE, SUGAR CANE, ORANGE, LEMON, NATURAL ORGANIC PRESERVATIVES, NOT TESTED ON ANIMALS, MADE OF 100% RECYCLABLE MATERIALS, BIODEGRADEABLE, EXCLUSIVE UNISEX FRAGRANCE.

---

Sanzi
ColorTrue Conditioner

"Products that will transform your hair, body and health."

72% ORGANIC, SULFATE FREE, PARABEN FREE, BHT FREE, UREA FREE, NO ARTIFICIAL COLORS, HAIR COLOR SAFE, NOT TESTED ON ANIMALS, MADE OF 100% RECYCLABLE MATERIALS, BIODEGRADEABLE, EXCLUSIVE UNISEX FRAGRANCE.